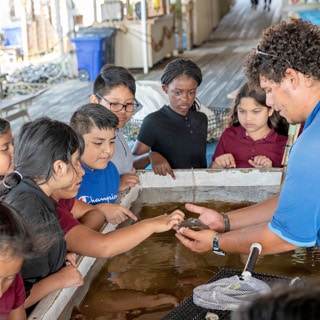 Science on the Bayshore
Jul
09,
2023
1:00 pm - 3:00 pm
Join us Fridays and Sundays at 1pm for our Science on the Bayshore
Hands-on educational programs, a great way for families to learn and have fun! Fridays and Sundays, two workshops a day! Register online
1st workshop 1:00pm – 1:45pm and 2nd workshop 2:00pm – 2:45pm.
Cost: $10 per student
July Schedule
Friday 7/7 – Renewable resources 1-1:45; Oysters and fisheries 2-2:45
Sunday 7/9 – All about oysters! 1-1:45; Watersheds and pollution 2-2:45
Friday 7/14 – Wetlands walk 1-1:45; Plankton and food webs 2-2:45
Sunday 7/16 – Adaptation/Build a bird 1-1:45; Climate change 2-2:45
Friday 7/21 – All about Oysters 1-1:45; Birds on the Bayshore 2-2:45
Sunday 7/23 – Tool Time 1-1:45; Adaptation/Build a Bird 2-2:45
Friday 7/28 – Oyster packing and shipping; 1-1:45; Birding 2-2:45
Sunday 7/30 – Wetlands walk 1-1:45; Plankton and food webs 2-2:45