Join us May 2nd Friday, May 13, 2022, 4 pm – 8:30 pm and Saturday After, May 14th 12 – 5 pm. We will have have local craft vendors including Handcrafted by Abraham Warren, August Shade Laser Crafts and Lena Mills, food trucks including Top Shelf Mobile Cuisine, Hook or Land and Manninos Cannoli.
C. Lynne Smith will be performing, the Delaware Bay Museum will be open for free self guided tours. The Meerwald Mercantile will be open featuring items from Art 2 Art, Art for a Better World, Jam Designs, BeStill, Golden Harvest Apiaries and more!
In addition to the food trucks we will be featuring fresh, local oysters on the half shell from Bivalve Packing and local wines and beer from the Glasstown Brewing Company. Jane Galetto will be our speaker Friday evening.
Saturday we will be adding a free birding walk led by Tom Mckee and Wendy Walker. The walk will begin at 2 pm, Saturday May 14th. Report to the Welcome Center to sign up.
You've seen the signs. Come out an hear what they're all about!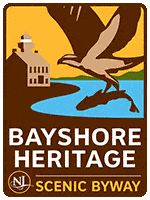 Wonder what these signs are about? Join Jane Galetto, President of CU Maurice River and one of the creators of the Bayshore Heritage Scenic Byway, as she explains what a byway is, its importance and what natural and historic points of interest are  along the way. The 122 mile Bayshore Heritage Scenic Byway is a state scenic and now national scenic byway that winds along the shoreline of the Delaware Bay from Mannington Township in Salem County to Cape May Point State Park. The Byway tells the story of centuries of connections between the communities and cultures along the Delaware Bay and Estuary and the rich and abundant natural resources that support them. There are historic districts in 11 of the communities along the Byway including: Salem City, Bridgeton, Mauricetown, Newport, Greenwich, Dennisville, Eldora, South Dennis, Cold Spring, West Cape May and Cape May. 
Bayshore Heritage Scenic Byway with Jane Morton Galetto.
Call 856-785-2060 or email giving@bayshorecenter.org for more info. See you there!