Bring your group for a day out at the Bayshore! Our programs are designed to accommodate class trips, Scout groups, homeschool groups, and any other groups of young people. Our programs are wheelchair accessible!
What are Youth Education Programs?
Our youth education programs are themed, group programs which each contain a series of hands-on workshops. These programs are designed for school groups, Scout groups, and any other groups of students. We offer a variety of themes, or we can work with you to create your own theme!
Our Programs
All programs are 2 hours long unless otherwise specified.
Bivalve Discovery Tour | Combination of Shipping Sheds and Wetlands Walk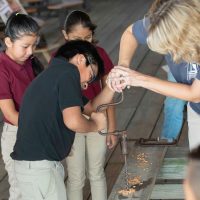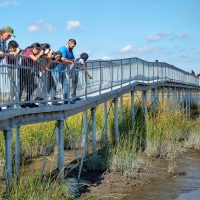 Shipping Sheds (1 hour) | Participants learn about the historic significance of the shipping sheds and, through the use of original artifacts and exhibits, appreciate the history of the Bayshore Region. This program includes three educational workshops: Oyster Processing, Shucking House, and Tool Time. This program is available on its own or as a part of our Bivalve Discovery Tour.
Wetlands Walk (1 hour) | This guided tour provides an excellent opportunity for participants to be exposed to the beauty and importance of our wetlands and birds. Bivalve's salt marshes provide a vital habitat for plants and animals, including migrating birds, spawning species, and their newly-hatched young. They also prevent flooding and provide storm drainage, improve water quality, and minimize erosion of upland areas. Participants will learn the impact of human activity on the wetlands and how we can help preserve them. This program is available on its own or as a part of our Bivalve Discovery Tour.
Sailing 101 | The Sailing 101 program teaches participants the history of the AJ Meerwald with a focus on its unique design. Participates will be introduced to maritime navigational equipment, learn how to plot waypoints on a chart, and learn the basics of sailing knots and coils. Together, the group will raise one of the ship's sails while singing a sea shanty!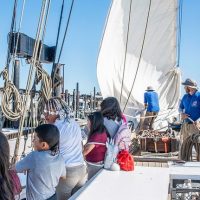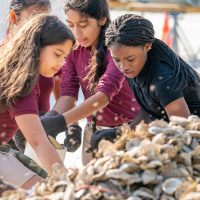 All About Oysters | Learn how oysters are harvested and their importance to the Delaware Bay, as well as the history of the AJ Meerwald and the shipping sheds. Bayshore Center educators will provide a guided tour of our shipping sheds with a focus on packing and shipping oysters. Participants will then try their hand at an important facet of the oyster industry: shell bagging! Shell bagging is a fun way to help prevent erosion and rebuild beaches, and it provides habitat to creatures living under the sea.
Life in the Delaware Bay | Learn about the living things that are supported by the Delaware Bay and its estuaries. Participants will use a trawl net to catch plankton, and use a microscope to examine them. Participants will also get to examine an oyster and several other Delaware Bay critters (if weather permits) up close. Bayshore Center educators will lead participants in a Wetlands Walk, where local wildlife and their habitats will be explored.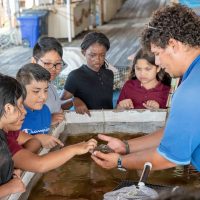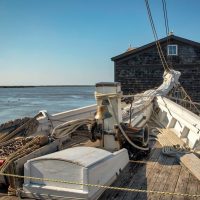 History of Bivalve | Learn the history of one of New Jersey's "lost towns", its past and future, who lived there, and what happened to them. Take a tour of the Bayshore Center at Bivalve's museum and shipping sheds. Participants will use tools from the past for a firsthand experience of life in Bivalve. They will also learn the stories of those who lived in Bivalve and tell a story of their own!
Custom Programs | If you would like to mix and match our different workshops, if your scouts need to fulfill badge requirements, or if your group has an interest in a certain topic not covered above, let us know in advance and we will work to accommodate your needs!
Pricing and Availability
Pricing is based on the length of the program and the number of participants. Please email us at education@bayshorecenter.org or call us at (856) 785-2060 for availability and a quote for your program. Special pricing is available for multiple programs or when combining a program with a sail aboard the AJ Meerwald.
If you have any questions or would like to book a program, please email us at education@bayshorecenter.org or call us at (856)785-2060.